If you're looking for a highly affordable travel system that's lightweight and a car seat that's very safe, the Chicco Viaro Car Seat and Stroller Combo may be the one for you. It comes with a portable and light stroller and the KeyFit 30, which is a high-rated infant safety seat loved by many parents. The Chicco Viaro comes with excellent safety features, and you can even use its stroller for your baby unassisted, making it great for use when walking around flat surfaces like the mall and the city.

This travel system combines the brand's Italian origins with a sporty and slim form that's popular with the majority of parents these days. This car seat and stroller combo is cheaper than most competition, has numerous features that busy families can take advantage of, and long-lasting. However, no product is perfect, and it does have a handful of cons as well. Find out in this review if this combo is the best option for you and your family.
Key Features:
Car seat weight range: 4 to 11 lbs with infant pillow insert; 11 to 30 lbs without the pillow insert
Stroller weight range: 30 to 50 lbs
Heigh limitation: 30in
SuperCinch LATCH system
ReclineSure system
Bubble level indicator for accuracy
5-point harness
A removable infant support pillow
The stroller has a child tray that's detachable with 2 cupholders
A parent tray with a couple of cupholders
3-wheel comes in a slim form
Multiple recline seat
The Stroller
The stroller of the Chicco Viaro is a bit big and does not fully recline, so it is not recommended for newborns. Furthermore, its backrest does not offer full support for smaller babies. If you plan on using this travel system from day one, you need to get the infant safety seat.
The stroller comes with multiple recline. The backrest can recline at any angle with a simple squeeze of its buckle. Keep in mind that the lowest position of the seat is not entirely flat, but it will provide your toddler a comfortable position when he's napping while you're strolling around.
The seat also comes with a comfortable and soft padding and a padded 5-point harness as well. It is not removable, but its seat padding can be removed if you want to hand wash it.
KeyFit 30 Car Seat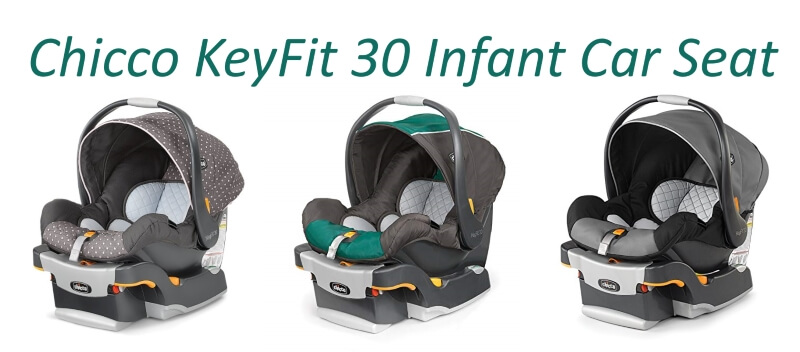 You can use this car seat and stroller combo from birth by adding the KeyFit 30 infant car seat. It is worth noting that the stroller is compatible with Fit2 and all KeyFit car seats as well. The stroller and car seat can be purchased separately or as a complete set.
The KeyFit 30 is one of the leading car seats today for many reasons. Aside from being one of the safest, it's also easy to install and simple to use. You can also easily transition from car to the stroller as it comes with a 2-position handle, making it convenient for you to carry your little one in the car seat.
It also comes with bubble level indicators for getting the correct angle in your car and for setting the base. Your baby will be well protected from any collision impact, thanks to its energy-absorbing EPS foam.
Installation
The car seat together with its base is very easy to install because of the bubble level indicator, SupeCinch LATCH, and ReclineSure systems. However, without its base, it may be difficult for you to obtain the proper tightness and angle. It does come with a red line on its label to guide you in getting the right angle for the seat belt, but you may still need a rolled out towel for leveling it. Fortunately, you will not have any issues fitting the car seat into the stroller.
Size and Fit to Vehicle
One of the significant downsides of this combo is its portability. It tends to be bulky once you fold it to put in your car's trunk because of the protruding snack tray. However, it can be easily maneuvered compared to compact-folding strollers. Some parents also find the rear wheels to be a bit wide apart and may get stuck when shopping in narrow aisles. While you may find the cupholders of this stroller to be narrow as it can only hold slim water bottles rather than your baby's travel mug or sippies.
The car seat of this travel system with a width of 17 inches will not take up too much space in the back seat of your car. But it may be a bit bulky if you have a compact vehicle, especially if there's a need for you to fit in two or more car seats.
Safety
The safety record of the KeyFit 30 included is excellent. It even ranked number 5 on car crash tests against competitors. It also tested higher than the safety standards of the federal when it comes to head injury protection. Smaller infants will get utmost protection thanks to its energy-absorbing EPS foam, as well as ample body and head support. While the newborn insert cushion provides an added layer of security to infants and preemies.
The Chicco Viaro also features a ReclineSure system for leveling and includes a bubble level indicator on both sides of its base, ensuring you will get the right recline angle and fit. It SuperCinch LATCH system, on the other hand, will provide a tight and secure fit with a single pull.
Bottom Line
Overall, the Chicco Viaro Car Seat and Stroller Combo is an excellent option for those who are looking for a stroller with a matching baby car seat for their child's first few months. Although there are a few drawbacks like its wheel design, it's still a high-quality, affordable product from a trusted brand.